Discover more from Toisto
Everything about film, streaming media, and games from your friendly Nordic freelancer.
Dr. Strange in the Multiverse of Madness
A gleefully demented journey on the Raimi Express.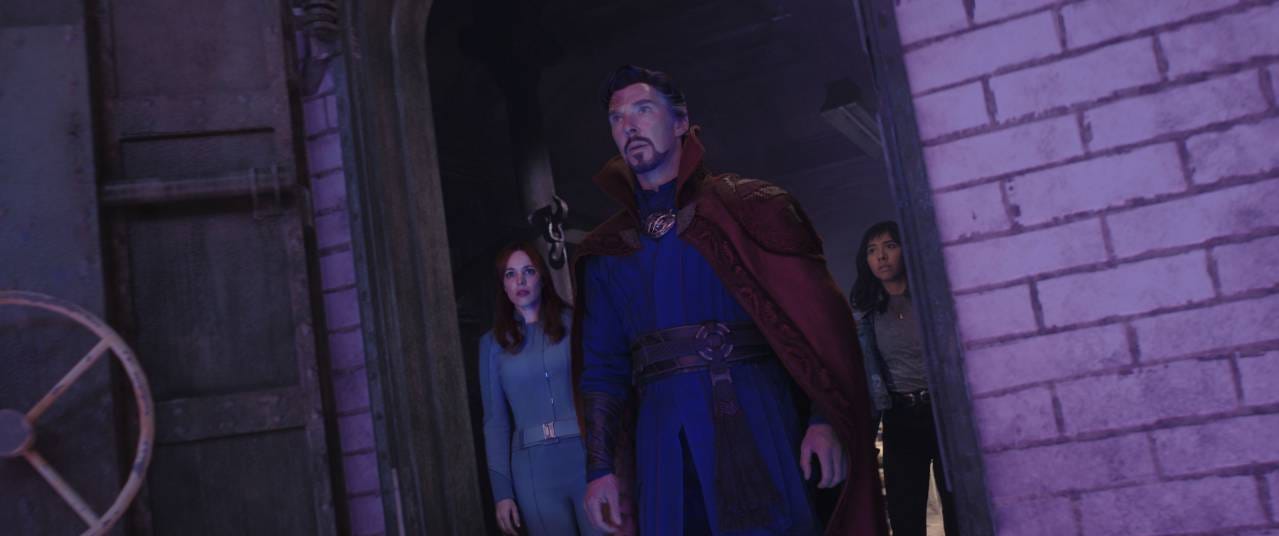 Dr. Strange in the Multiverse of Madness is like a rollercoaster, and, like its counterpart, it does exactly what you'd expect a rollercoaster to do. It swerves, dips, has a nice buildup, and it ends in a way that's both anticipated yet equally sudden. Its speed can be measured in RPMs. Raimi's-Per-Minute.
Sam Raimi, the director, is someone most film fans have probably heard of. At least, I hope so. He's the demented genius behind horror-comedy classics like Evil Dead and Drag Me to Hell. It was his vision that initially sparked the comic-to-film madness in the early aughts with Spider-Man.
Now, he returns to Marvel after a thorny breakup in 2007. Raimi staples Danny Elfman and the great Bruce Campbell tag along too. As far as reunions go, this alone would make Multiverse worth celebrating.
How lucky, then, that Multiverse of Madness isn't just a good movie. It's also peak Raimi in the best possible way. Inventive, gory, and spectacularly silly. A perfect salve for those yearning for more Evil Dead, and a fantastic introduction to the world of Raimi-isms for newcomers. On a purely visual level, Raimi's take on the material might be the closest to comic book perfection we've seen yet. Or at least since his last foray into this world.
---
Marvel films occupy a particular and often frustrating niche in the cinematic landscape. Essentially a massively budgeted serial, the 26 films rarely work on their own. Such is the case here, too. If you're unclear who Dr. Strange or Wanda Maximoff is, it's almost best to skip the whole thing entirely. There's very little exposition on a larger scale, and what there is builds up the next big phase of Marvel properties down the line.
This kind of storytelling has already burnt out many. Eventually, it will burn me out, too. But that time isn't here yet. For now, I remain on the Kevin Feige express of increasing stakes and wacky adventures. Even if by now you need a whole map to make sense of it.
As for the plot, it's as messy as they come. America Chavez escapes through the multiverse into our reality, where she bumps into Dr. Strange, master of the mystic arts. Something or someone is after her powers – the ability to leap through the scattered universes at will – and she can't hold off on her own. Strange seeks out help from former Avenger Wanda Maximoff, only to realize her grief over the loss of Vision, her husband killed in the Infinity War, has put her on a path of no return.
It's silly, cheesy, and entirely preposterous. I love it. I can see why many will not. So many scenes involve great actors standing around describing the next MacGuffin in their path. The few scenes of genuine pathos stand out in their brevity.
---
I don't think any of that is necessarily a bad thing, either. Everyone here has come to play. By now, they know the kind of films they're making, and there's a genuine looseness that brings. Benedict Cumberbatch is fantastic as the brilliant, but tremendously awkward sorcerer. He brings weight to the silliness, yet never takes things too seriously. He might not have the same level of goofball charm as The Shemperor Supreme, Bruce Campbell, but it's more than enough.
Equally wonderful is Elizabeth Olsen, tugging the heartstrings with a devastating performance as the traumatized Wanda. Olsen brings down the house in some of the quieter parts of the film. It's one of the rare times that Marvel's villain finally lives up to their promise.
Sure, there are cameos galore, and a lot of it feels like an ad for a future episode of the Feige show. But if you're still complaining about that a decade and two dozen films later, I don't know what you're expecting anymore. Marvel, for good and bad, lives up to their mission statement. Entertainment for the whole family in an ever-expanding sandbox.
Only this time, it's filtered through the lens of a campy auteur extraordinaire. Raimi's definitive vision of multiversal madness stands out not just for the cheerfully violent spin, but also for how clear his directorial style is compared to others. If there's a chance to spin the camera, he takes it. Zooms into people's mouths and eyeballs? Why not. All in glorious, dizzying IMAX 3D.
---
Will it work without the bells and whistles? I think so. There's just enough of everything else to make it a full meal instead of just sweet gravy. It doesn't reinvent anything, and every change to the universe it does make can be easily rewritten in future episodes. Such is the nature of this particular beast.
But there's something comforting in that familiarity. You get exactly what the cover promises. If Feige's vision is to create a library of films equaling that of a comic book display, there's no better example of that than Raimi's return to the house he helped build.