Discover more from Toisto
Everything about film, streaming media, and games from your friendly Nordic freelancer.
Night Visions: What Josiah Saw
★★★★ A terrifying and emotionally devastating generational horror film that lingers in the soul.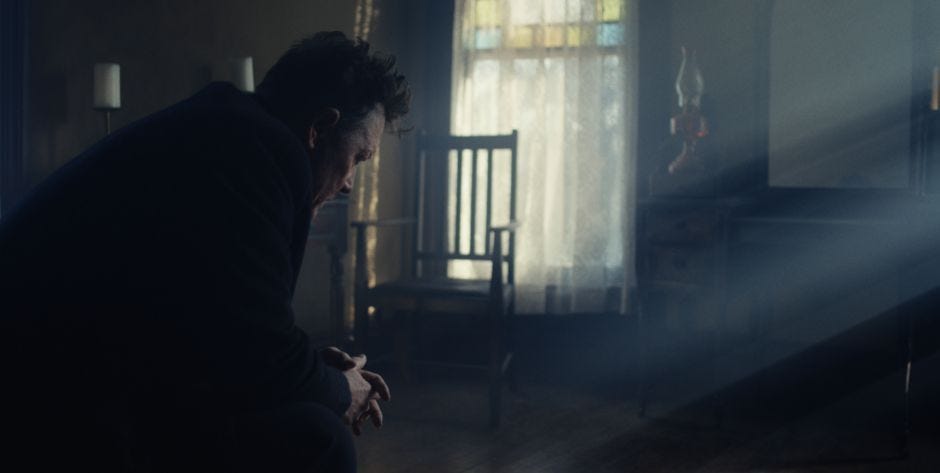 (This is part of our Night Visions Back to Basics 2022 festival coverage. Check out details on screenings for What Josiah Saw here.)
---
Somewhere in the bible belt is a weather-beaten old farm. It barely stands, more spiteful than proud. Inside, the sole occupants, a scraggly father, and his mentally challenged son watch the days pass by. The son is devout. The father is defiant. Neither has much use for the world, just as the world has no use for them.
Far to the west, another man spends his days drinking, fucking, and scheming. To call him a petty thief would be a disservice to both pettiness and thieves.
In a rainy city, a woman buries her fingers in her hands. She's waiting to hear if her adoption will go through. Her past is pockmarked with sorrow and trauma. If she can hold herself together, maybe a new life can give her a chance at another one.
On the farm, the father, Josiah, has a vision. The biblical kind that always leads to bloodshed. His family must come together under one roof. Just like they once were. Whether they want to or not.
---
What Josiah Saw is a family story. The kind you'd read in a long-form article that tracks decades of abuse, neglect, and sorrow. A family tree of meticulously researched pain told through facts and oral history.
The facts are the violence. Brutal and to the point. Horrifying in detail and unflinching in honesty. The oral history is everything around it. The consequences, the lingering trauma, the how and why. Those stories overlap and contradict one another. Nobody can agree on how they've come to this point. But they do agree on how much they hurt.
Directed by Vincent Grashaw and written by Robert Alan Dilts, What Josiah Saw defies simple encapsulation. It has elements of folk horror, road movie, crime drama, and domestic tragedy. They live under the umbrella of what I'd call a generational horror film. A visual representation of what trauma feels like. On that front, it's a rousing success.
That depiction consumes everything in the frame. Even direct sunlight in a warm desert feels oppressive. Colors come in all shades of bleak. Robert Patrick's face is a topographical map of suppressed anger. Watching What Josiah Saw is a marathon. It's repellant in the way honesty can be. Every uncovered truth hurts. Each withering putdown skewers. Just when you think there's an emotional escape in the form of the supernatural, Grashaw and Dilts nail the door shut.
---
At two hours, I'd argue What Josiah Saw is a tad too long. But it's hard to pinpoint how it could be any different. Its slow-burn narrative needs the buildup, and there's barely a wasted scene in sight. I think it feels the way it does because it has to. For these people, the world came to a standstill long ago. Whatever they do or whoever they become, they're still stuck in a singular moment in the past. Everything else is the enveloping grasp of detritus.
Grashaw's fantastic sense of time and place ensnares us from the very beginning. Even if you've never visited this remote world, you recognize it on an emotional level. Like a great novel, the unfolding narrative is rich in texture. Even as that texture has never showered a day in its life. And while the final revelations don't necessarily all connect, their results linger. It took me days to shake this film.
What Josiah Saw isn't for everyone. I'd even suggest that for some, it might prove too much. As it deals with generational trauma, familial ties, and guilt, it never lets the viewer off easy. But for those who can bear the devastation, Grashaw's steadfast direction delivers a complex and powerful payoff. It's a haunting waking nightmare that seeps into the soul.