Discover more from Toisto
Everything about film, streaming media, and games from your friendly Nordic freelancer.
Ten Films You Should See At Night Visions Back to Basics 2022
Here are the 15 films you shouldn't miss out on at Night Visions Back to Basics 2022.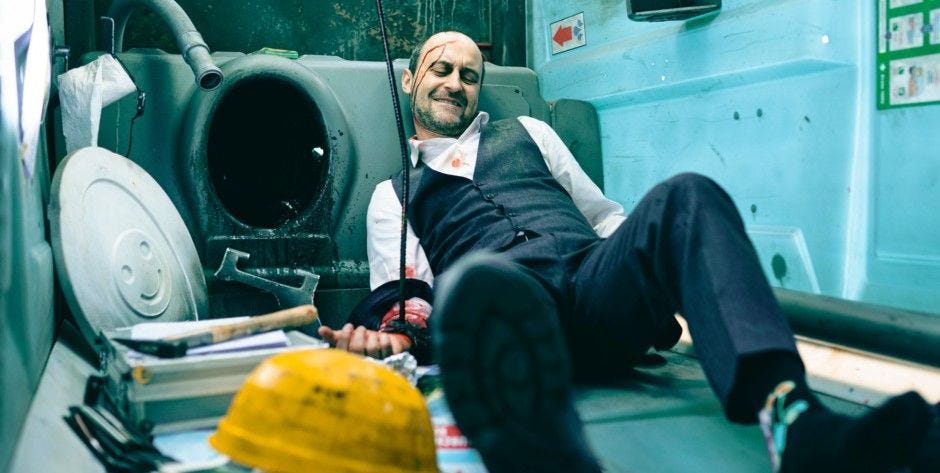 Night Visions returns from April 20th to the 24th with a full, classic festival lineup after a long dry spell of shortened and compromised events. There are over thirty films playing over four days and one night. As always, it's an impressive collection of absolute bangers of genre cinema from around the world.
While the special screening of Häxan didn't make this list, don't miss out on what promises to be a spectacular 100th-anniversary screening with a live score by Veli-Matti Äijälä.
I have reviews coming in all throughout the week before tickets go on sale this Friday, April 8th, so be sure to check back for more content soon.
Also, check out the full festival roster here!
---
Everything Everywhere All At Once
Directed by Daniels, the demented filmmaking duo responsible for Swiss Army Man and The Death of Dick Long comes a multi-dimensional story about finding yourself. With kung-fu.
Michelle Yeoh stars as Evelyn, a struggling laundromat owner undergoing an audit by the IRS. Tensions run high, and it's clear that whatever life Evelyn once planned for herself never came to pass. That is until the multiverse breaks down and only she can put things back in order.
After a hugely successful debut at the South by Southwest Film Festival, Everything Everywhere is heralded as one of the most original, heartwarming, and best films of the new decade. It is essential viewing for anyone who has bemoaned the lack of daring new content in mainstream cinema.
The Northman
Hot off the success of The Lighthouse, Robert Eggers has turned his gaze to the mythic and violent era of Viking lore. With an incredible cast including Alexander Skarsgård, Anya Taylor-Joy, Willem Dafoe, and Björk, The Northman looks hugely promising – and intensely violent. Those who've seen it in advance claim it's the best thing Egger's has made to date. Which isn't faint praise, considering the whopping home runs of The Witch and The Lighthouse. Consider this as one of the safest bets for a good time at the festival.
The Unbearable Weight of Massive Talent
Signaling both an end and a new beginning for Nicolas Cage, The Unbearable Weight of Massive Talent is a treat in so many ways. Part artistic renaissance for a talented actor, part a meta-commentary on his career. It's also the film that finally broke him free of the financial troubles that partially defined his past decade.
In the film, Cage plays a heightened version of himself. Insecure, narcissistic, and really bad with money. His career isn't where he'd want it to be, and the heyday of big blockbusters is well behind him. So when a request from a reclusive Spanish billionaire (Pedro Pascal) comes in, requesting Cage as a guest of honor for his birthday, he reluctantly accepts. But Cage isn't the only wanted man around. With both cartels and the FBI after his newfound friend, Cage must become the action hero he plays on screen.
What Josiah Saw
After finishing What Josiah Saw, I stared at the screen for a good fifteen minutes in silence. I wasn't entirely sure if I liked what I just saw. But there was no question that it left its mark. The longer I thought about it, the deeper my appreciation grew.  This is a haunting generational horror film that seeps into the soul.
Set in some godforsaken part of the bible belt, What Josiah Saw burns extremely slowly. So slow, in fact, that the deliberate pacing will turn off some. Especially when combined with brutal emotional and physical violence, some perpetrated by an imposing Robert Patrick.
But those willing to stick with the intense terror and moody performances will find a lot to love. Especially in the sure-handed directing and acting, which make even the aggressively handled final act worthwhile. It's not for everyone, but I'd still warmly recommend it for the experience alone. Look for a review later this week.
Upurga
The fiction feature debut by filmmaker Ulgis Olte, Upurga is one of the hidden gems of the Back to Basics lineup. Billed as a mythological thriller in the wild, it's an unnerving first film that lives up to the hype.
Namedropping its influences (hello, Deliverance) early on, Upurga is a self-aware and subversive thriller that consistently delights. The setting is both familiar and unnerving. An untamed river somewhere on the Estonian border, where a group of snotty influencers arrives for an ill-planned shoot. The locals are less than welcoming, threatening the group to stay away from the lower banks and leave within an hour. So far, so familiar.
But within moments, Upurga turns the tables on unsuspecting viewers. What follows is a harrowing run through the wilds, as Olte flips genre conventions on their heads. Helped along by an extremely game cast, it's a haunting ride that never lets up. Look for a full review later this week, and don't miss this one!
Woodlands Dark and Days Bewitched: A History of Folk Horror
A staggering achievement of cultural anthropology and education. Woodlands Dark and Bewitched saw an initial release earlier with the staggering All The Haunts Be Ours box set from Severin films. Now, you can get a chance to see this incredible documentary on the big screen.
Charting the history of folk horror throughout the decades, this is a comprehensive and immaculately crafted look at the genre. Brimming with detailed research, interesting viewpoints, and breathtaking pacing, it never feels like the three hours it actually is. For fans of film, history, and horror, this is an unmissable experience on the big screen.
The Room
You know what this is. Bring spoons.
Nitram
Justin Kurtzel may not always deliver, but he's never boring, either. His latest, a deeply disturbing look at mental turmoil starring Caleb Landry-Jones and Essie Davies, is definitely in the "not boring" camp. Inspired by real events, I've heard this harrowing story compared favorably to last year's brilliant System Crasher, which makes it an even more exciting prospect. Far removed from the visual majesty of Macbeth, this is an intimate and humane drama that refuses to let the viewer off easily.
Pussycake
I wouldn't say that Pussycake is in bad taste, but it's certainly not for every palette. This is a wild, raunchy, incredibly gory, and hilarious take on the zombie genre. With inter-dimensional monsters, something like barfing zombies, a fantastic soundtrack, it has way more style than you'd expect from a low-budget film of this kind. I fell completely for its edgy charm, and you can read more in the full review later this week.
The Crazies
George A. Romero's other, often forgotten, masterpiece. A brilliantly bleak look at a pandemic-ridden world that's still frighteningly relevant. Featuring some of the biggest shocks and scares of the maestro's career, The Crazies hasn't lost any of its effectiveness in the decades since its release. It's the perfect film for this moment in our collective history, best experienced on the big screen.